Engineering
About our Engineering Department

Utilising the latest CAD/CAM software from leading developers, the company's policy of 'thought to finish' is well supported.
CNC Bending
CNC Bending/Forming Ensures Consistant Precision.
CNC Punching
CNC Punching Division Uses Computer-Numerically Controlled Technology CNC To Ensure Accurecy And Consistency.
Inserts
We work with various types and styles to suit virtually any insert application in metal.  Inserts are designed to provide the high-performance strength.
Laser Cutting
Using the the latest technology and software, we promise to meet all our clients metal cutting requirements!
Metal Brushing & Finishing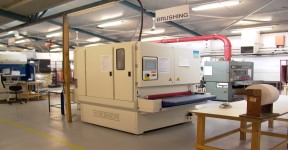 For a perfect and smooth finish to our work we use Metal Brushing.
Welding
Employing the latest in metal inert gas (MIG) and tungsten inert gas (TIG) Welding technologies along with superior skilll, Metalgrapho is commited to offer the best service in complex metal fabrication.
Gallery
Click image below to view gallery
| | | |
| --- | --- | --- |
| CNC Bending | CNC Punching | Inserts |
| Laser Cutting | Metal Brushing & Finishing | Welding |